Hot Dog Eating Contest: Hall of Fame
We're famous for hot dogs. These competitive eaters are famous for eating them – fast.
2022 Mustard Belt Victories
Raise Your Franks to the 2022 Nathan's Famous International Hot Dog Eating Contest Champs Miki Sudo and Joey Chestnut!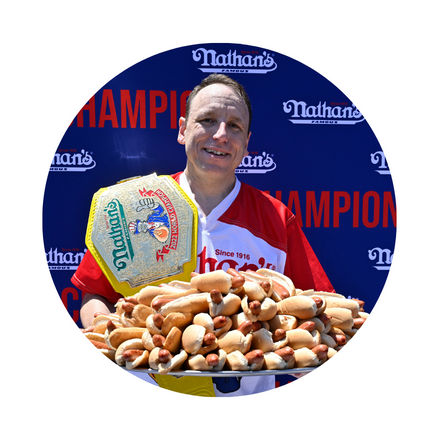 Joey Chestnut
63 Hot Dogs
Surprised to see the great Joey Chestnut up here? Doubt it! In 2022, Joey won his 15th Mustard Yellow Belt after eating 63 hot dogs and buns. There's no doubt in our mind who's the king.
---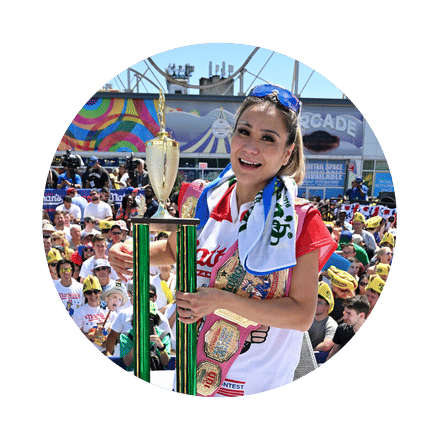 Miki Sudo
42 Hot Dogs
Miki Sudo holds the women's world record of 48.5 Nathan's Famous Hot Dogs in 10 minutes. Miki won her eight title on July 4, 2022 with 42 hot dogs and buns eaten.
2022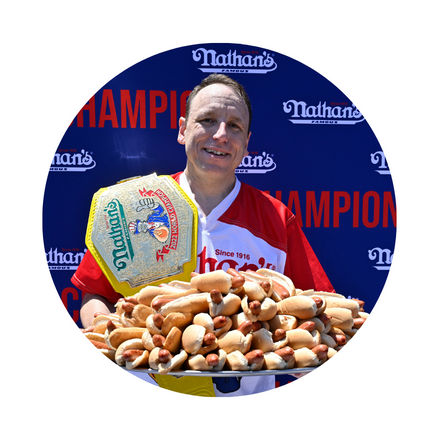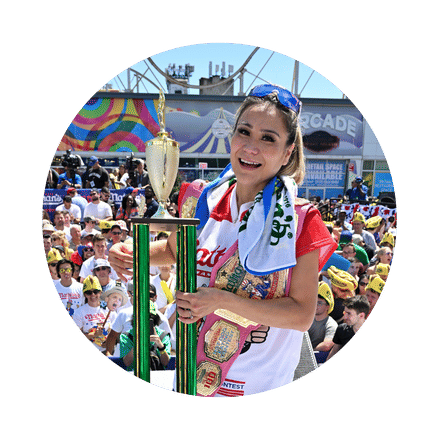 expand_more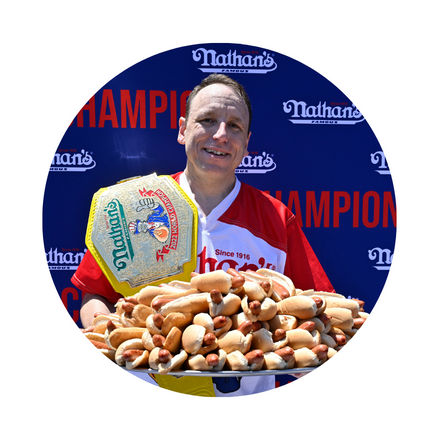 Geoffrey Esper 47.5
James Webb 41
Nicholas Wehry 40
Patrick Bertoletti 33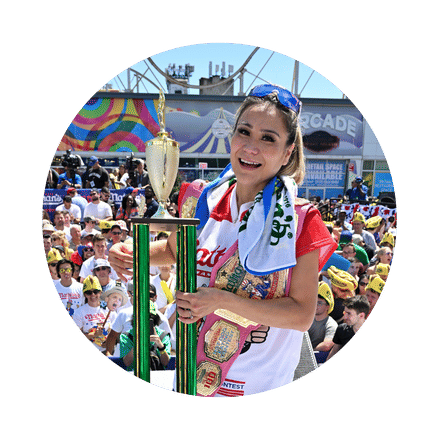 Michelle Lesco 26
Sarah Rodriguez 23
Larell Marie Mele 15
Katie Prettyman 13
2021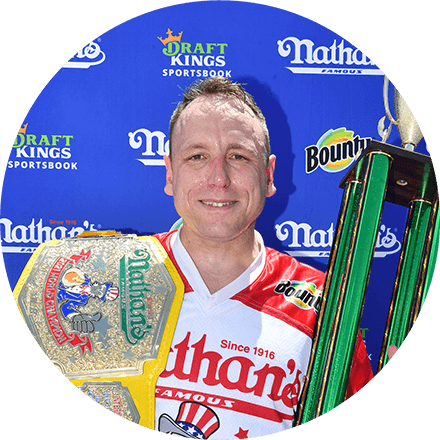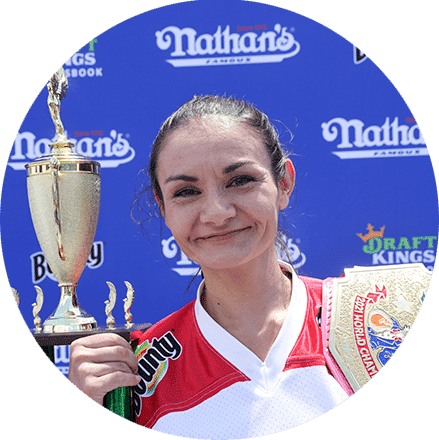 Michelle Lesco
30.75 Hot Dogs
expand_more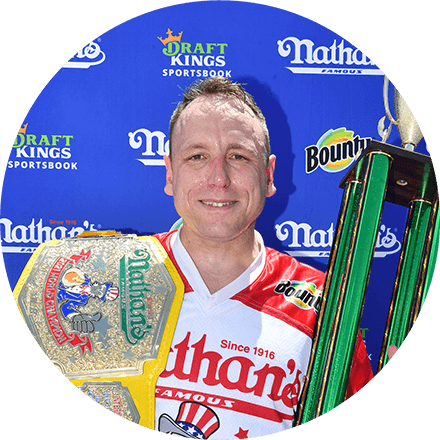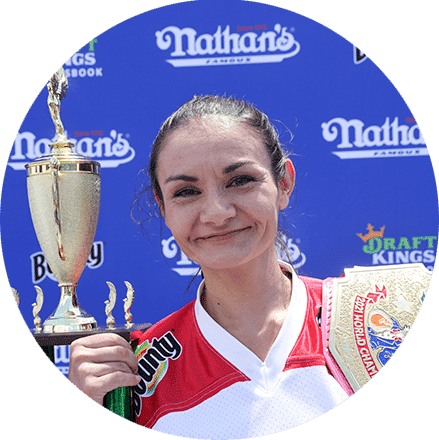 Michelle Lesco
30.75 Hot Dogs
2020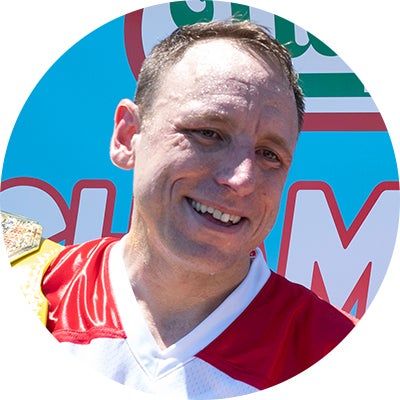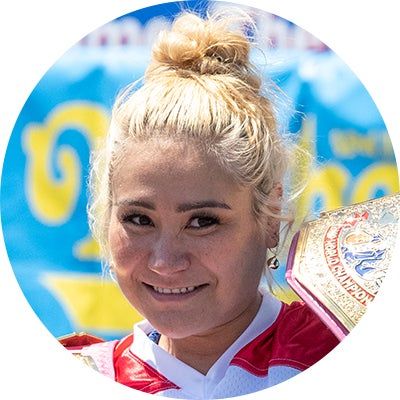 expand_more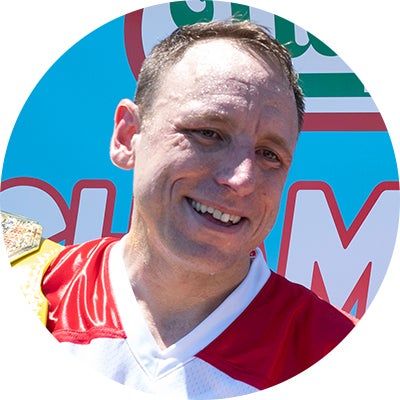 Darron Breeden 42
Nick Wehry 39.5
George Chiger 24
Eric Booker 20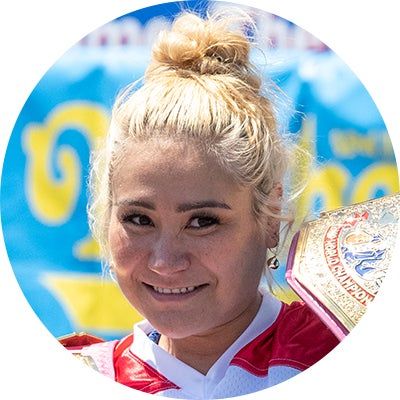 Larell Marie Mele 18
Katie Prettyman 15
Julie Goldberg 8.5
Rene Rovtar 7
2019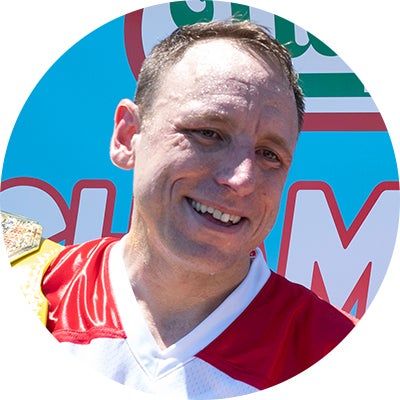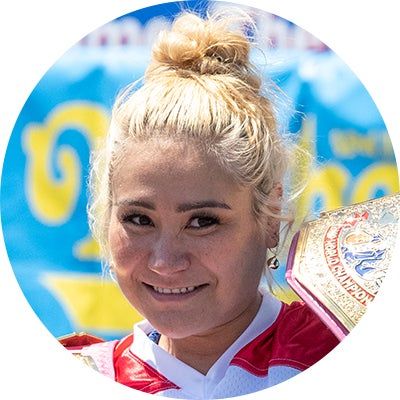 expand_more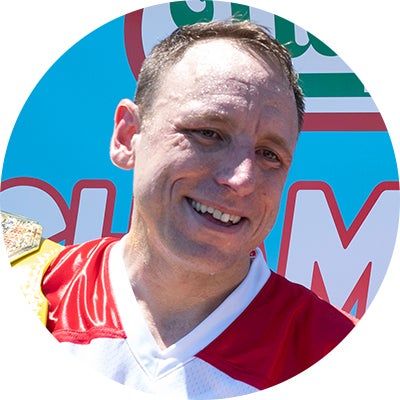 Darron Breeden 50
Geoffrey Esper 47
Matt Stonie 46
Max Suzuki 39
Nick Wehry 36
Gideon Oji 34
Matt Hazzard 34
Juan Neave 29
Adam Moran 28.5
Ronnie Hartman 28.5
Derek Jacobs 27
Pablo Martinez 27
Adrian Morgan 26
George Chiger 26
Juan Rodriguez 26
Darrien Thomas 22
Steve Hendry 22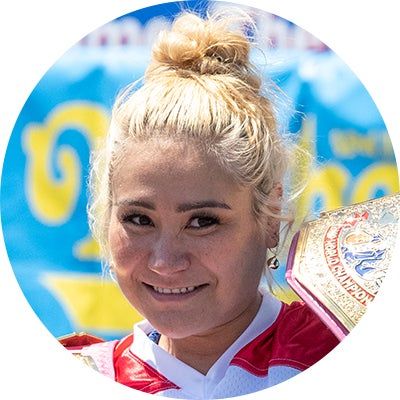 Michelle Lesco 26.5
Juliet Lee 23
Sarah Reinecke 23
Larell Marie Mele 18
Sophia DeVita 14
Katie Prettyman 12.5
Holly Titus 11
Kelly Wong 10.5
Kathryn Tesch 10.5
Jocelyn Walker 9
Mary Bowers 8
Juliet Goldberg 7
Rene Rovtar 7
Katherine Wong 6
2018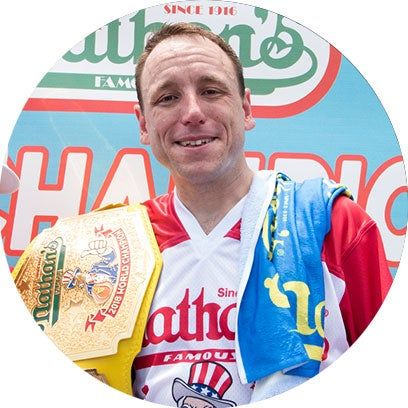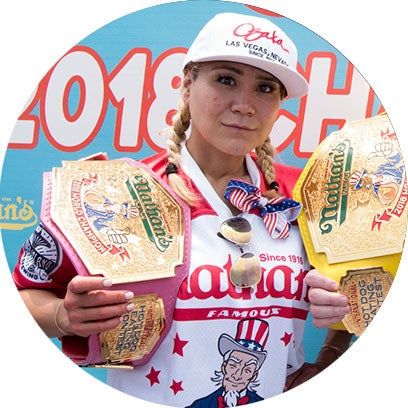 expand_more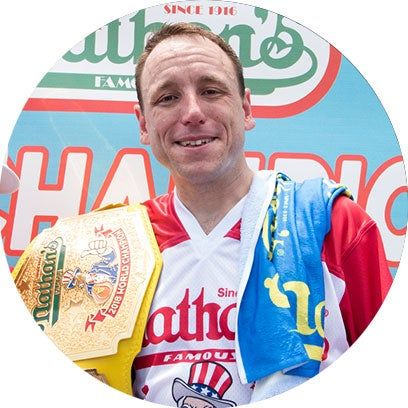 Carmen Cincotti 64
Darron Breeden 43
Geoffrey Esper 41
Matt Stonie 40
Gideon Oji 37.5
Max Suzuki 34
Adrian Morgan 33
Juan Rodriguez 32
Nick Wehry 31
Rich LeFevre 28
Derek Jacobs 27
Juan Neave 27
Matt Hazzard 25
George Chiger 24.75
Steve Hendry 24
Pablo Martinez 24
Erik Denmark 21.5
Ronnie Hartman 21.5
Jim Reeves 21
Badlands Booker 20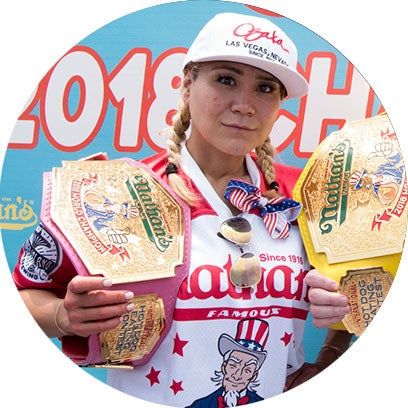 Michelle Lesco 28
Juliet Lee 25
Sarah Reinecke 21
Larell Marie Mele 19
Sophia DeVita 14
Jingru Chen 13
Kassandra Zapata 12
Katie Prettyman 11
Jocelyn Walker 10.5
Tracie Dickerson 8
Kathryn Tesch 8
Holly Titus 8
Brittany Powell 7
Rene Rovtar 6.5
Brynn Szeles 6.5
Kristina Rovtar 5
Prudence DiBenedetto 4
2017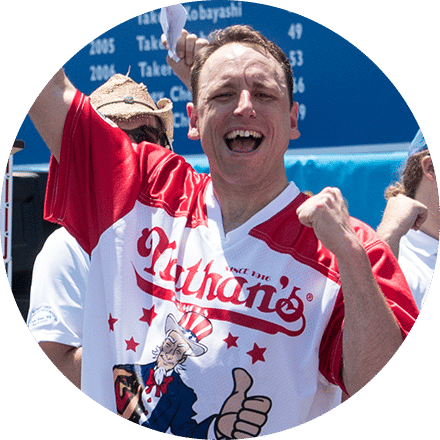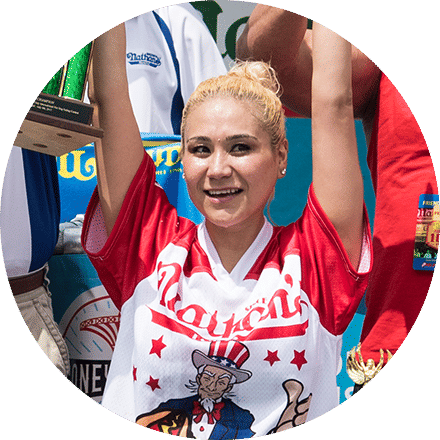 expand_more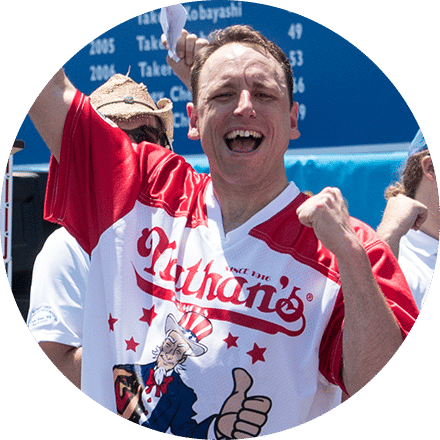 Carmen Cincotti 60
Matt Stonie 48
Geoffrey Esper 44.5
Darron Breeden 38.5
Gideon Oji 36
Adrian Morgan 34
Juan Rodriguez 33
Yasir Salem 33
Rich LeFevre 29
Erik Denmark 25
Pablo Martinez 23
Steve Hendry 22.5
Badlands Booker 22
Josh Miller 22
Jim Reeves 22
Derek Jacobs 20.5
Juan Neave 20
Brian Dudzinski 20
Matthew Cohen 16
Pedram Esmaeelzadeh 14.5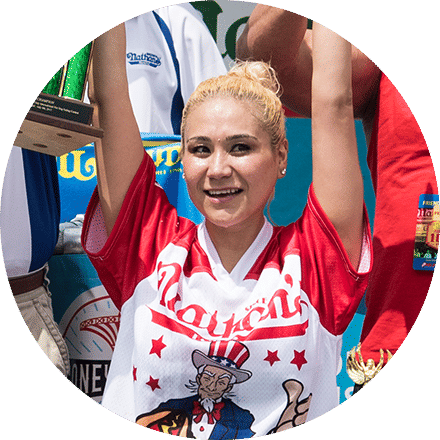 Michelle Lesco 32
Sonya Thomas 30
Juliet Lee 25
Sophia DeVita 18
Meredith Boxberger 17
Daniella Gioia 17
Sarah Reinecke 15
Larell Marie Mele 14
Kassandra Zapata 13
Carlene LeFevre 12
Mary Bowers 8
Liz McClurg 8
Rene Rovtar 8
Marlene Wigginton 8
Stevie Palmer 7.75
Deborah Bethea 6
Danielle Leppert-Simenauer 6
2016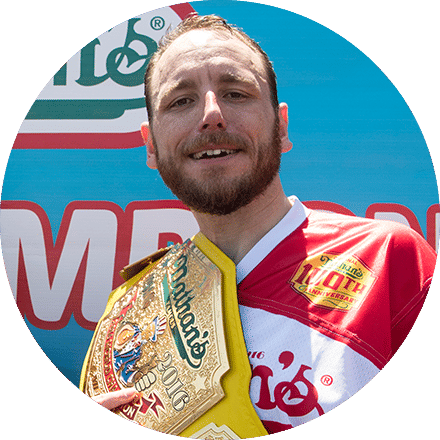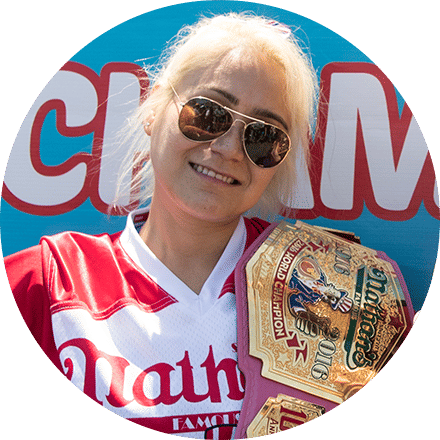 expand_more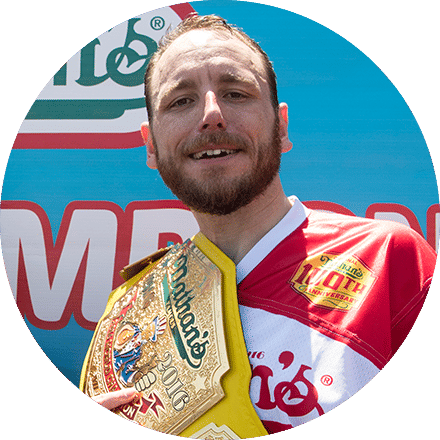 Matt Stonie 53
Carmen Cincotti 42
Gideon Oji 38
Geoffrey Esper 37.5
Adrian Morgan 36
Yasir Salem 31
Erik Denmark 31
Rich LeFevre 29
Marcos Owens 28
Juan Rodriguez 27
Eric Booker 25
Brian Dudzinski 24
Steve Schuster 16
Dan Katz 12
Crazy Legs Conti 1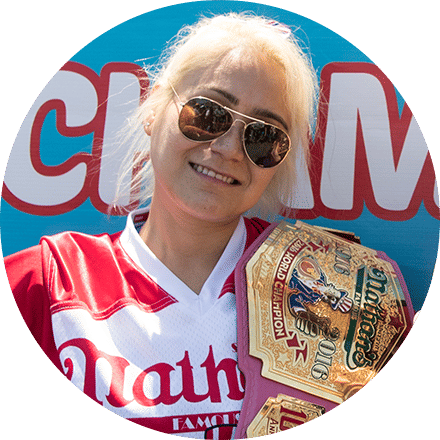 Sonya Thomas 35
Juliet Lee 27
Michelle Lesco 27
BeeJay Alexander 17.5
Nela Zisser 16.75
Meredith Boxberger 16
Sophia DeVita 15.5
Larell Marie Mele 15
Kassandra Zapata 13.5
Daniella Gioia 12.5
Mary Bowers 8.5
Noelle Dudzinski 7.75
Hilary Andrews 7
Elizabeth Petra 4.5
2015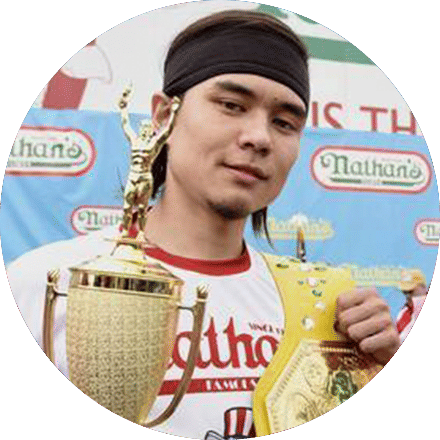 Matthew Stonie
62 Hot Dogs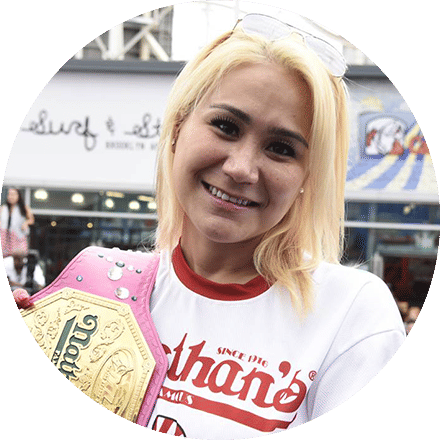 expand_more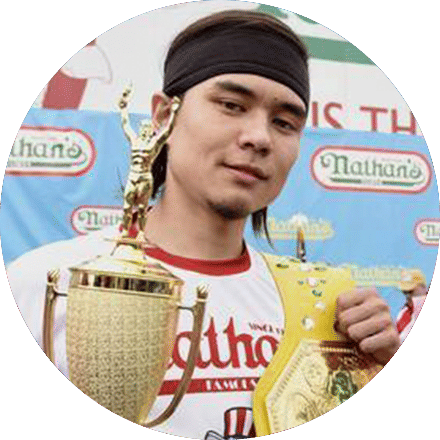 Matthew Stonie
62 Hot Dogs
Joey Chestnut 60
Eater X 35.5
Erik Denmark 33
Adrian Morgan 31
Yasir Salem 30
Geoffrey Esper 29.5
Juan Rodriguez 28
Badlands Booker 24.5
Pablo Martinez 22
Steve Hendry 21.75
Crazy Legs Conti 19.5
Brian Dudzinski 19
Gideon Oji 19
Jeff Butler 17
Nate Biller 16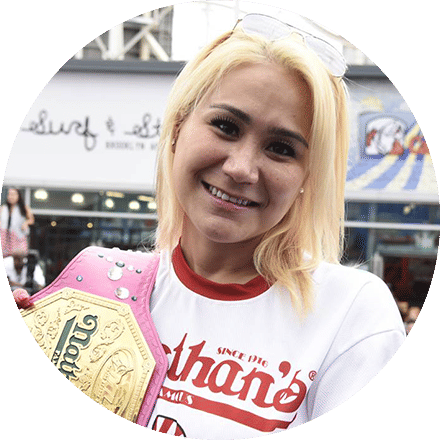 Sonya Thomas 31
Juliet Lee 27.5
Michelle Lesco 26
Larell Marie Mele 16.75
Meredith Boxberger 16.5
Nela Zisser 16
Daniella Gioia 15
BeeJay Alexander 13
Carlene LeFevre 11
Lesley Ryder 10.5
Liz McClurg 8.5
Mary Bowers 8
Crystin Pactor 8
Marlene Wigginton 8
Angie Hendry 5
2014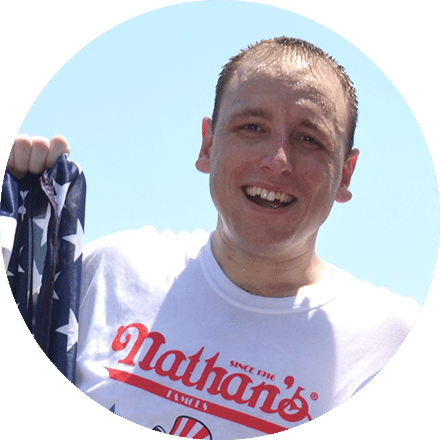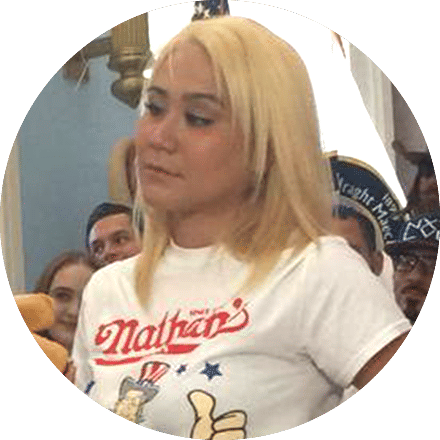 expand_more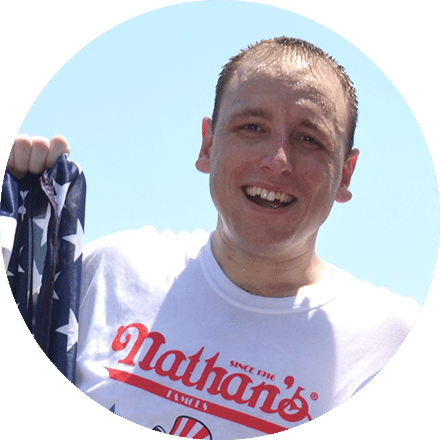 Matt Stonie 56
Tim Janus 44
Erik Denmark 34
Brian Dudzinski 34
Juan Rodriguez 32
Adrian Morgan 29
Marcos Owens 26
Badlands Booker 25
Yasir Salem 19.75
Aaron Osthoff 19.5
Pablo Martinez 17
Ronnie Hartman 14
Sean Gordon 10
Sgt. Horacio Chanyau 10
Colin Shirlow 3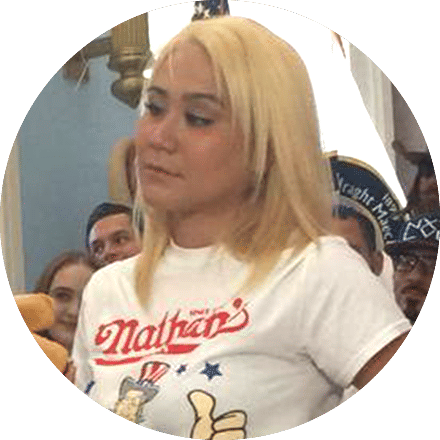 Sonya Thomas 27.75
Michelle Lesco 27
Juliet Lee 23
Meredith Boxberger 18
Larell Marie Mele 14
Carlene LeFevre 11
Neslie Ricasa 10
Mary Bowers 9
Marlene Wigginton 8.5
Nicole Kulig 7.5
Nicole Rodriguez 7
Val Bromann 3
2013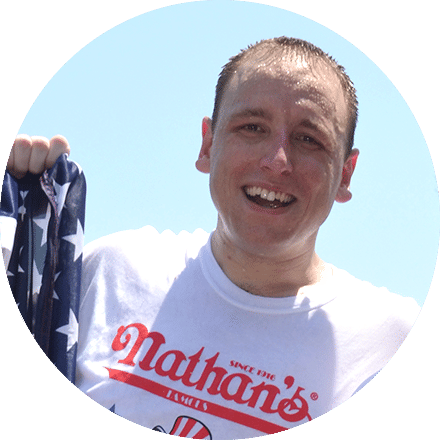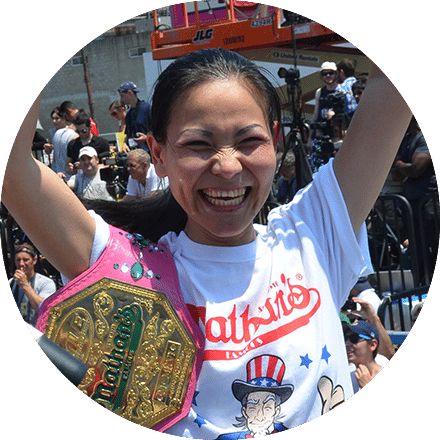 Sonya Thomas
36.75 Hot Dogs
expand_more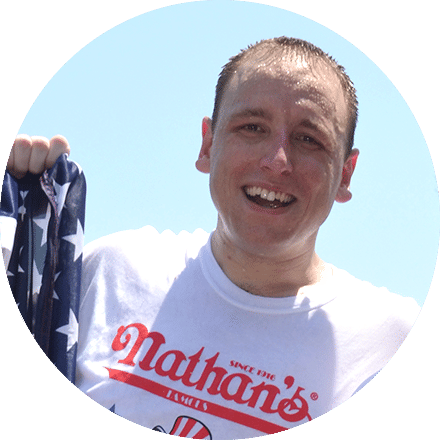 Matthew Stonie 51
Tim 'Eater X' Janus 50
Bob Shoudt 39.75
Adrian Morgan 38
Aaron Osthoff 31
Jeff Butler 31
Yasir Salem 30
Marcos Owens 29
Erik Denmark 28
Pablo Martinez 27
Juan Rodriguez 26
Pete Davekos 25
Ronnie Hartman 22
Badlands Booker 21
Christos Kyriazis 9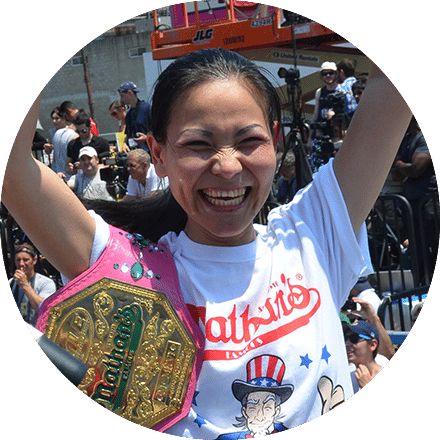 Sonya Thomas
36.75 Hot Dogs
Juliet Lee 36
Michelle Lesco 27.5
Meredith Boxburger 26
Larell Marie Mele 21
Neslie Ricasa 14
Mary Bowers 10
Laura Riehman 6
Prudence Di Benedetto 6
2012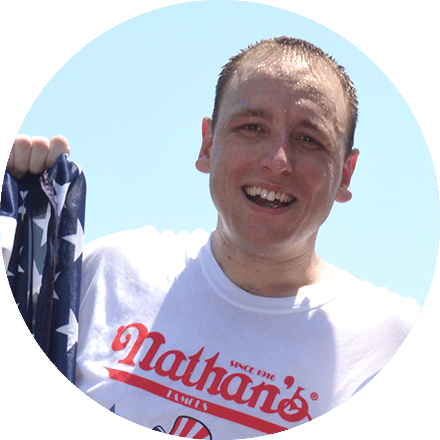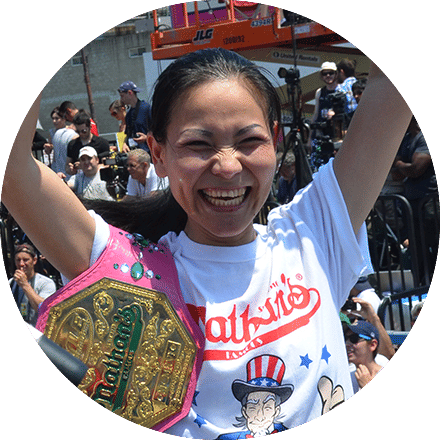 expand_more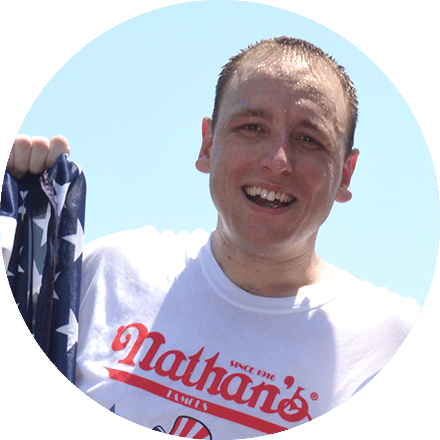 Eater X Tim Janus 52.25
Pat Bertoletti 51
Matt Stonie 46
B.O.B. Shoudt 45
Adrian Morgan 35
Erik Denmark 32
Sean Gordon 32
Micah Collins 31
Gravy Brown 30.5
Pete Davekos 28
Badlands Booker 25.5
Yasir Salem 25
Crazy Legs Conti 20
Lee Vilinsky 15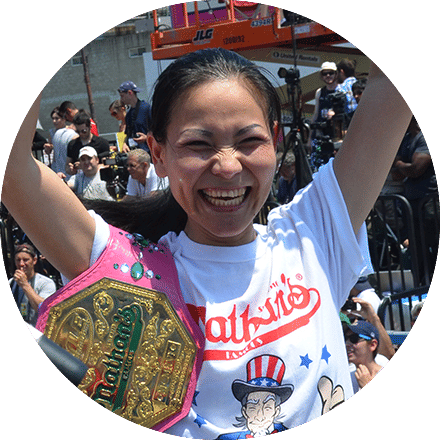 Sonya Thomas 45
Juliet Lee 33
Michelle Lesco 25.5
Meredith Boxberger 21.5
Larell Marie Mele 21.25
Maria Edible 18.5
Nicole Anderson 16
Dee Martin 9.5
Neslie Ricasa 9
Mary Bowers 8.5
Theresa Subich 7
Mia Davekos 6
Molly Nemunaitis 5.5
Janice Deregla 3
2011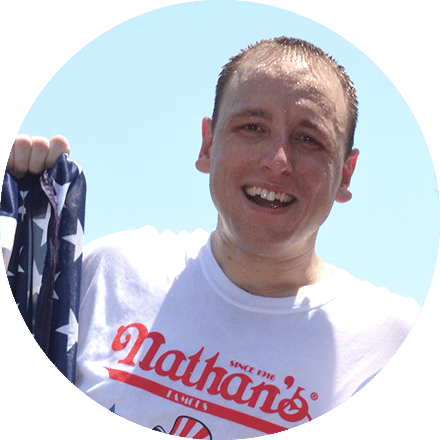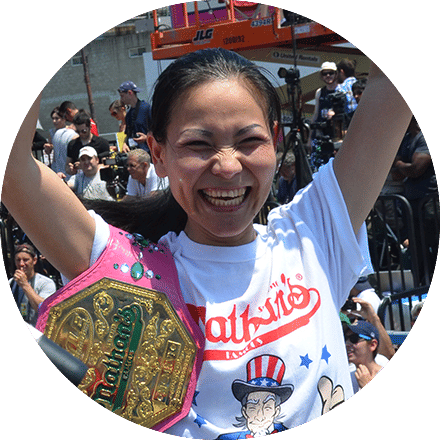 expand_more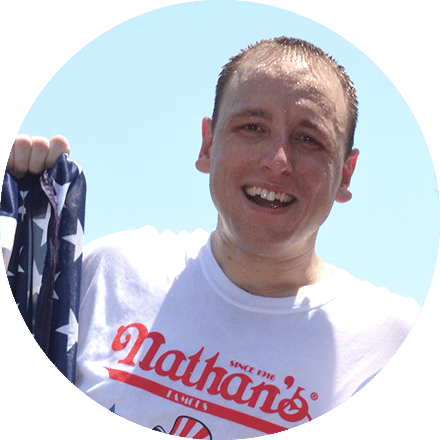 Pat "Deep Dish" Bertoletti 53
Tim "Eater X" Janus 45
Bob "Notorious B.O.B." Shoudt 39
Sean "Flash" Gordon 34
Matt Stonie 34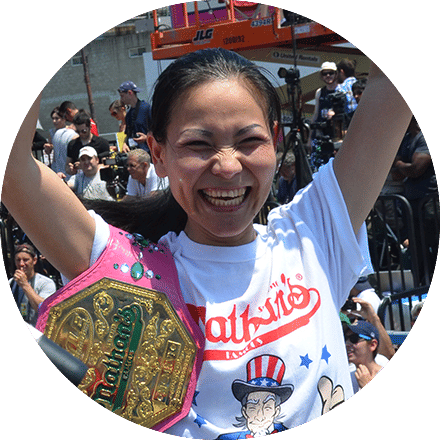 Juliet Lee 29.5
Stephanie Torres 28.5
Michelle Lesco 20
Larell Marie Mele 16
2010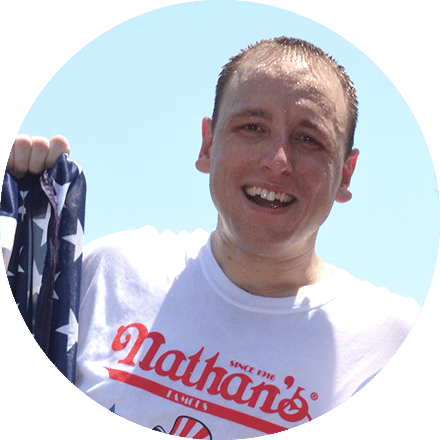 expand_more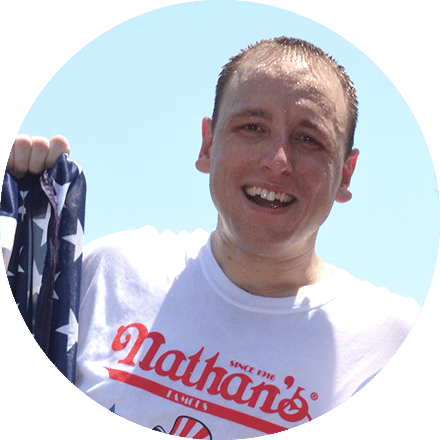 Tim Eater X Janus 45
Pat Bertoletti 37
Sonya Thomas 36
Bob Shoudt 34
Erik Denmark 32
Gravy Brown 31
Allen Goldstein 28
Juliet Lee 27
Ben Monson 27
Sean Gordon 26.5
Pete Davekos 24
Badlands Booker 24
Crazy Legs Conti 20
Bryan Beard 15.5
Kris Adams 11
2009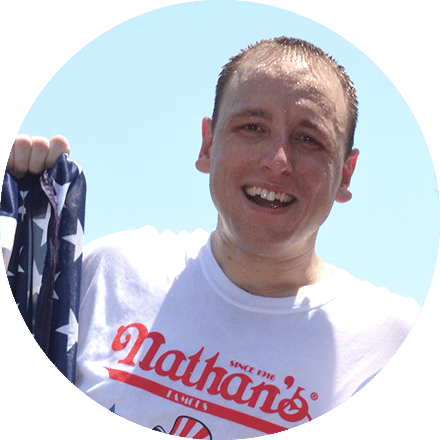 expand_more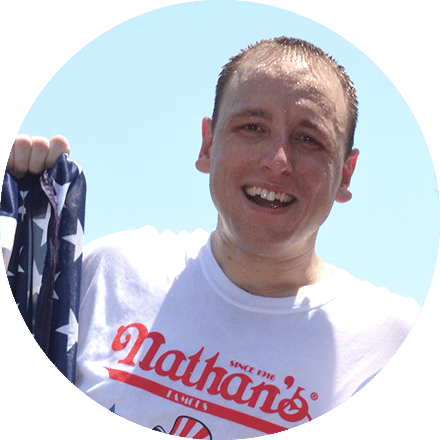 Takeru Kobayashi 64.5
Pat Bertoletti 55
Tim Eater X Janus 53
Bob Shoudt 41.75
Sonya Thomas 41
Hall Hunt 38.5
Erik Denmark 38
Juliet Lee 34
Badlands Booker 30
Gravy Brown 30
Jim Reeves 28.5
Crazy Legs Conti 25
Pete Davekos 25
Sean Gordon 25
Marco Marquez 23
Micah Collins 21
Franco Camerini 14
Bob Coccodrilli 14
2008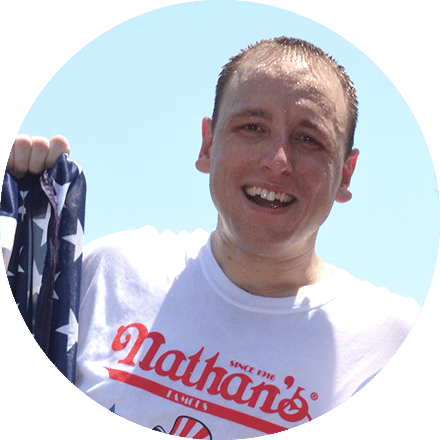 expand_more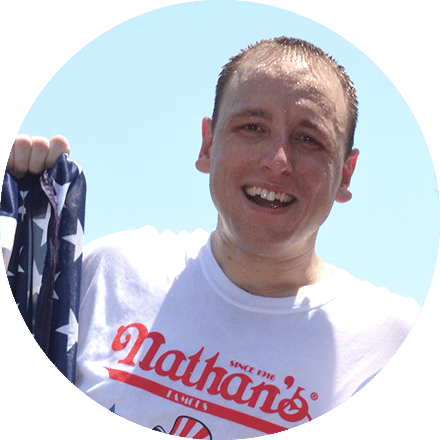 Takeru Kobayashi 59
Tim Janus 42
Pat Bertoletti 38
Sonya Thomas 34
Hall Hunt 30
Bob Shoudt 30
Juliet Lee 29
Erik Denmark 28
Juris Shibayama 28
Eric Booker 25.5
Patrick Vandam 25
Rich LeFevre 25
Crazy Legs Conti 24
Allan Goldstein 21
Tim Brown 20
Pat Philbin 19
Nathan Biller 18.5
Pete Davekos 18
Arturo Rios 16
Kevin Ross 14
2007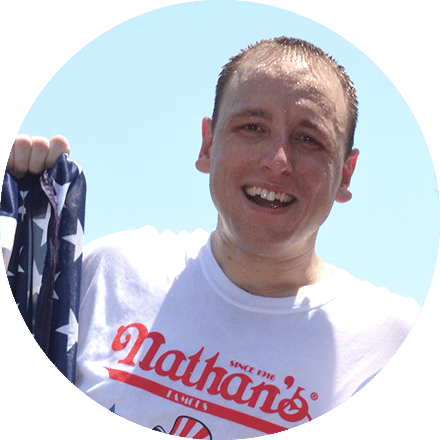 expand_more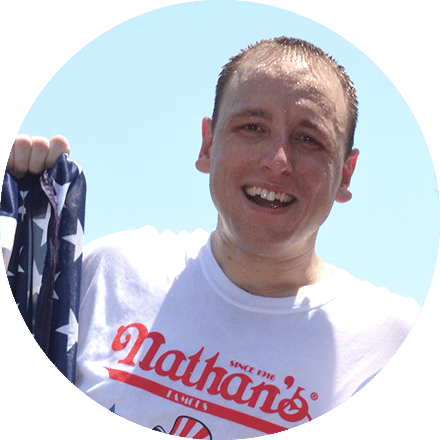 Takeru Kobayashi 63
Pat Bertoletti 49
Tim Janus 43
Sonya Thomas 39
Chip Simpson 35
Rob Schodt 35
Rich LeFevre 31
Hall Hunt 29
Juliet Lee 26
Dale Boone 25
Pat Philbin 24
Crazy Legs Conti 23
Erik Denmark 23
Tim Brown 22
Arturo Rios, Jr. 21
2006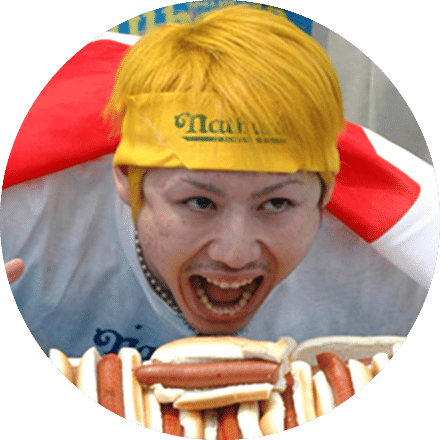 Takeru Kobayashi
53.75 Hot Dogs
expand_more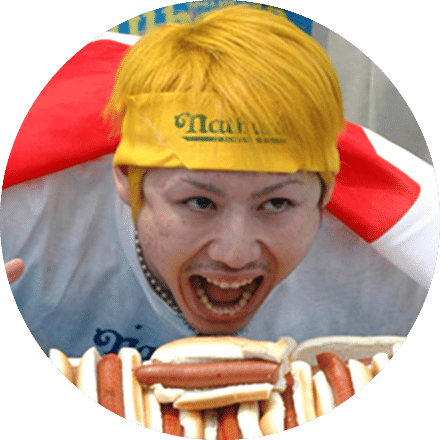 Takeru Kobayashi
53.75 Hot Dogs
Joey Chestnut 52
Sonya Thomas 37
2005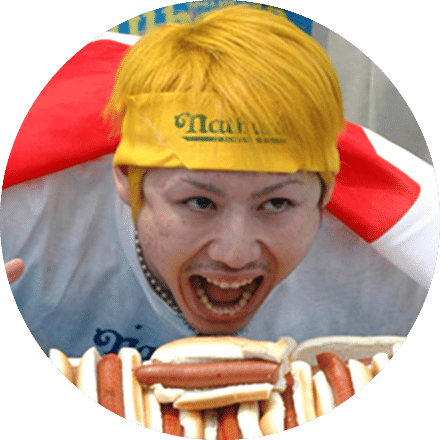 Takeru Kobayashi
49 Hot Dogs
expand_more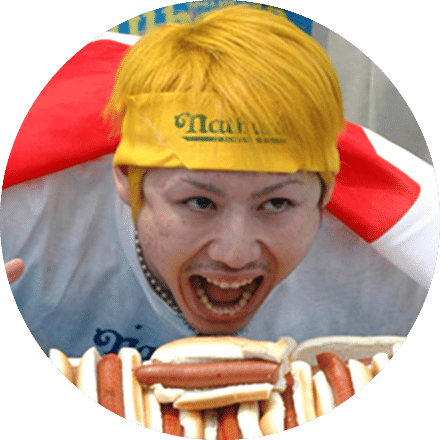 Takeru Kobayashi
49 Hot Dogs
Sonya Thomas 37
Joey Chestnut 32
Ed Jarvis 29
Kenji Oguni 29
Rich LeFevre 25.5
Carlene LeFevre 25
Ron Koch 23
Tim Janus 22.5
Eric Booker 22
Charles Hardy 22
Pat Philbin 20
Crazy Legs Conti 19
Joe LaRue 18
Don Lerman 15
Rob Burns 10
2004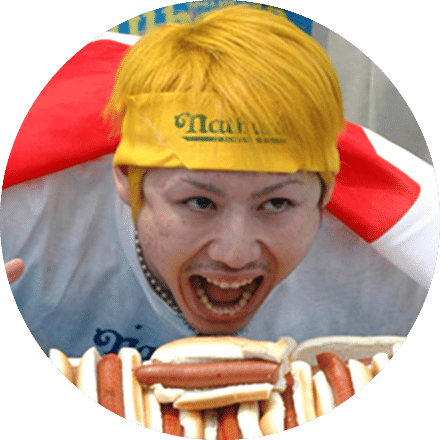 Takeru Kobayashi
53.5 Hot Dogs
expand_more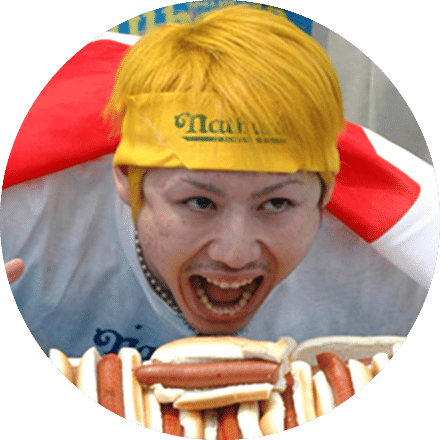 Takeru Kobayashi
53.5 Hot Dogs
Nobuyuki Shirota 38
Sonya Thomas 32
Rich LeFevre 27.75
Ed Jarvis 27
Eric Booker 27
Carlene LeFevre 22
Jim Reeves 21
Joe LaRue 20
Allan Goldstein 19
2003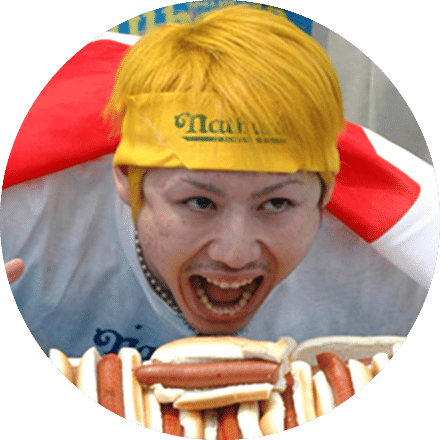 Takeru Kobayashi
44.5 Hot Dogs
expand_more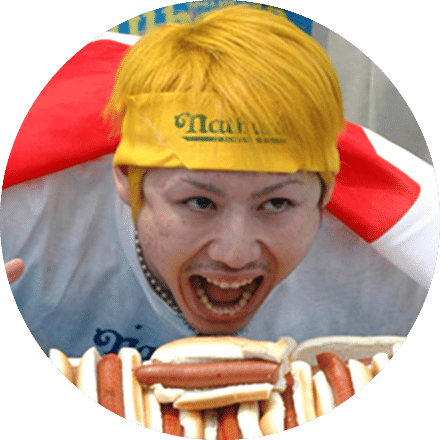 Takeru Kobayashi
44.5 Hot Dogs
Ed Jarvis 30.5
Eric Booker 29
Sonya Thomas 25
William Perry 4
2002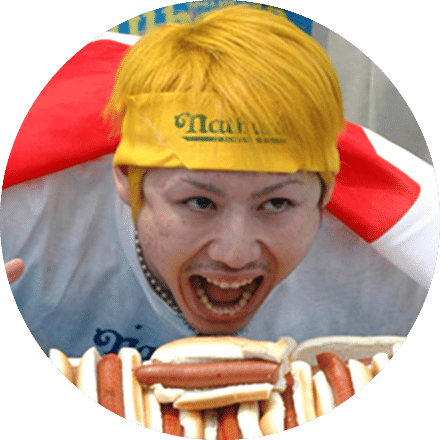 Takeru Kobayashi
50 Hot Dogs
expand_more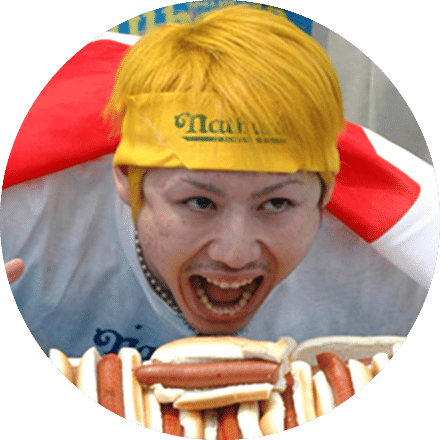 Takeru Kobayashi
50 Hot Dogs
Eric Booker 26
Oleg Zhornitskiy 25